Dog Mode geïntroduceerd in Tesla 3
Steeds meer auto's komen met speciale pakketten voor honden. Wie geabonneerd is op Dogzine kon al lezen over Jaguar en Landrover, en in oktober vorig jaar maakten we hier op de website melding van de tweet van Tesla-baas Elon Musk, die het best een idee vond om een speciale knop aan zijn elektrische auto toe te voegen die ervoor zou zorgen dat de hond in de auto ook bij zon  heel comfortabel kon blijven wachten.  Met inbegrip van melding dat de hond er prima bijzit, om omstanders die de ruiten van de auto anders zouden willen inslaan op andere gedachten te brengen.
Elon Musk hield daad bij het woord, want de hondenfeature is nu inderdaad speciaal ontwikkeld voor het instapmodel van Tesla, de 3.  Zelf omschrijft Tesla de Dog Mode als "Om Dog Mode in te schakelen, druk je op het ventilatie icoontje op het touchscreen wanneer de auto is geparkeerd. Zet "Keep Climate" op de stand "DOG" en stel vervolgens zelf nog de temperatuur limiet in. Dog Mode blijft actief wanneer je weggaat van de auto. Mocht je batterij minder dan 20% percentage hebben, krijg je vervolgens een melding op de mobiele app."
Op Twitter maken gebruikers zich nog wel zorgen om de relatief kleine tekst "my owner will be back soon" die er op het display verschijnt. Maar Musk zelf meldt daaronder al "updating" dus dat zal ongetwijfeld ook snel verholpen zijn. De Dog Mode is overigens niet heel bijzonder, maar "This is in addition to existing Cabin Overheat Protection, which come on automatically at high temps to ensure any babies or pets in the car are safe" aldus Musk zelf.
Uiteraard, op Twitter lokte de tweet en het filmpje weer een enorme hoeveelheid reacties uit. Van eigenaren van honden (en Tesla's) die enthousiast zijn, omdat de hond zo even (nee, uiteraard niet urenlang, maar alleen bij een korte boodschap) veilig en koel in de auto kunnen blijven (er wordt ook  geruststellende, klassieke muziek afgespeeld tijdens de Dog mode), tot de voorspelbare reacties als "We are so saddened to see your software 'Dog Mode' Yes, technology can fail, our bigger concern is that it is promoting an unattended car as a "safe" environment for a pet to be left in. This message is irresponsible as many, many lone pets in cars are targeted by thieves"  En uiteraard, in het kader van discriminatie, wanneer komt Tesla met de "Cat Mode" of zelfs de "Cobra mode", aldus twitteraars…
Lees ook: Komt Tesla met speciale ""dog-modus"
---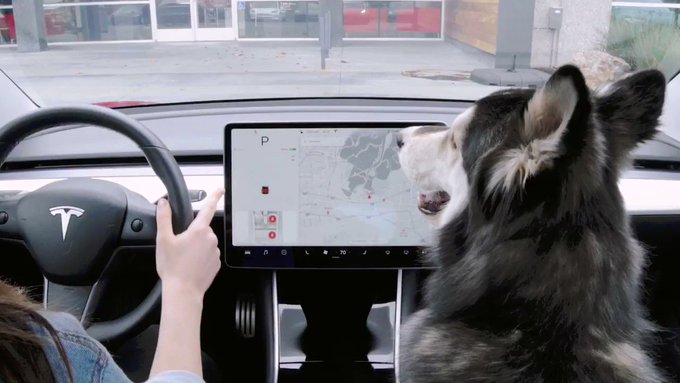 Introducing Dog Mode: set a cabin temperature to keep your dog comfortable while letting passersby know they don't need to worry